Dolmadakia - Greek stuffed vine leaves
Dolmadakia - Greek stuffed vine leaves
Dolmadakia, are stuffed vine leaves with loads of herbs and rice. In Cyprus we usually make them with mincemeat, however today I'm sharing the Greek version!
Vegan, nut free, soy free, gluten free | Serves 5 | MAIN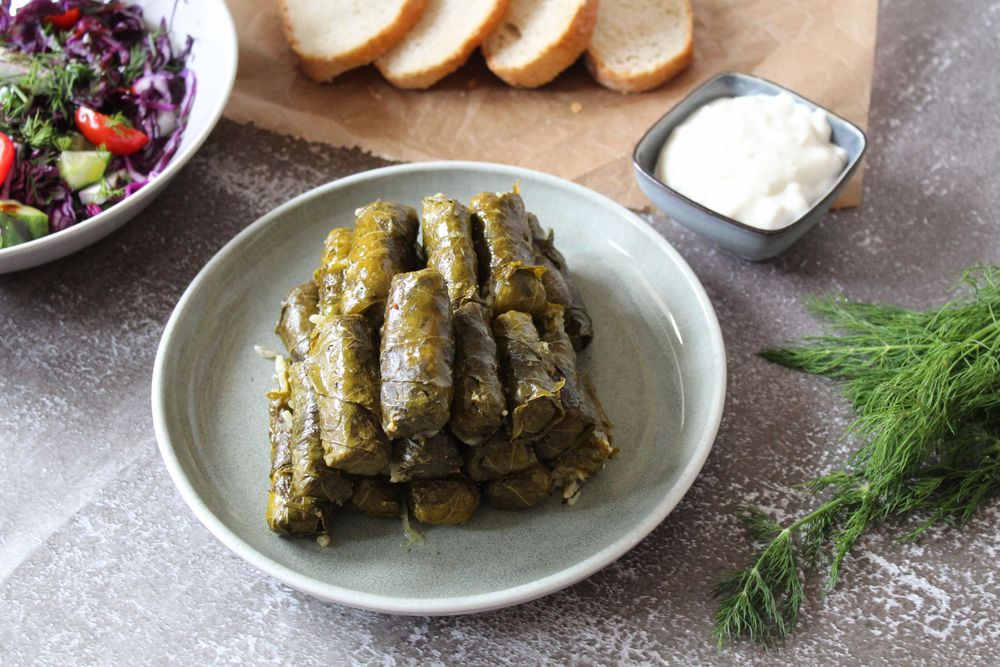 Ingredients:
120ml Vassae Greek olive oil
1 white onion (2 small), finely cut
5 spring onions (green & white parts), finely cut
400g white rice (Baldo, Karolina or risotto rise)
1 bunch of dill
Juice of 1 lemon
Salt and pepper
1 teaspoon dried oregano
300g vine leaves, tender
1 lemon, sliced
400ml of veggie broth, hot
Steps:
1.In a pan, on a medium-low heat, sauté all the onions with the olive and a generous pinch of salt, for 10-15 minutes, stirring occasionally.
2.Once the onions are soft and golden, add the rice, dill, salt, pepper, oregano and lemon juice and cook another 5 minutes, stirring occasionally.
3.If your vine leaves are fresh, blanch them in boiling water for 2-3 minutes. Then rinse with cold water and drain.
4.If your vine leaves are in brine, add in a strainer and rinse well with cold water before using them.
5.Remove any small stem that they leaves might have.
6.Before you start rolling your dolmades, cover the bottom of your pot with few leaves (I usually use the broken ones).
7.Start rolling your dolmades, by placing each leaf on a plate/board (veins facing up and shiny side down), add 1/2-1 teaspoon of the rice mixture in the middle, fold the top and then the sides and roll to complete.
8.Place the dolma into the pot, one next to the other following the shape of the pot.
9.Continue until you have used all the mixture and leaves.
10.Add the lemon slices on top of the dolmades in a single layer, cover with a plate and the hot veggie broth.
11.Add a lid and cook on a medium-low heat for 40-45 minutes. Once cooked the water must be fully evaporated.
12.Serve with plant-based Greek yogurt, salad and bread. Enjoy hot or cold.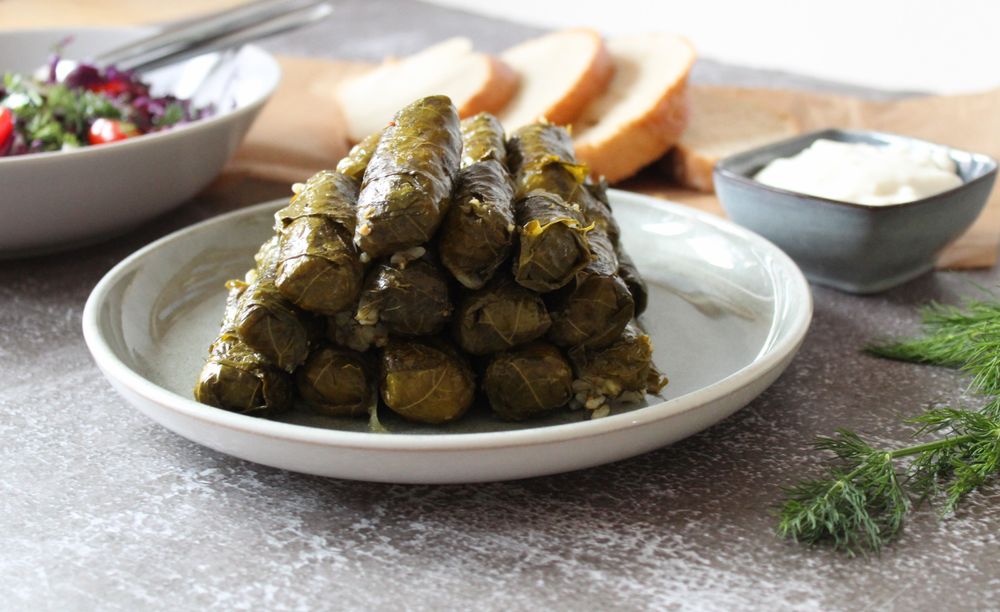 Happy cooking everyone!
Did you try this recipe?
Let us know how it went, comment below and share a picture on Instagram or Twitter with the hashtag #natliciousfood
*Disclosure
Some of the above links are affiliate links, meaning at no additional cost to you, I may earn commission when you click through and make a purchase.