Creamy harissa curry
This harissa curry is so creamy and delicious, made with simple ingredients, it can be your new weekly favourite!
Vegan, nut free, soy free, gluten free | Serves 3 | MAIN
Ingredients:
4 tablespoons of olive oil
1 onion, chopped
2 cloves of garlic, minced or chopped
1 small piece of ginger, minced or chopped
1 green chili (aka finger chili), chopped
Salt and pepper
1/2 teaspoon of dried oregano
1/3 teaspoon of each curry powder, garlic granules and cayenne pepper
Pinch of cumin
1 teaspoon harissa paste
1 teaspoon tomato paste
1 sweet potato, cut in cubes
1 veggie cube
400g whole peeled plum tomatoes (from a can)
400g coconut milk (from a can)
240g borlotti beans (from a can), drained and rinsed
A handful of kale
Juice of half lemon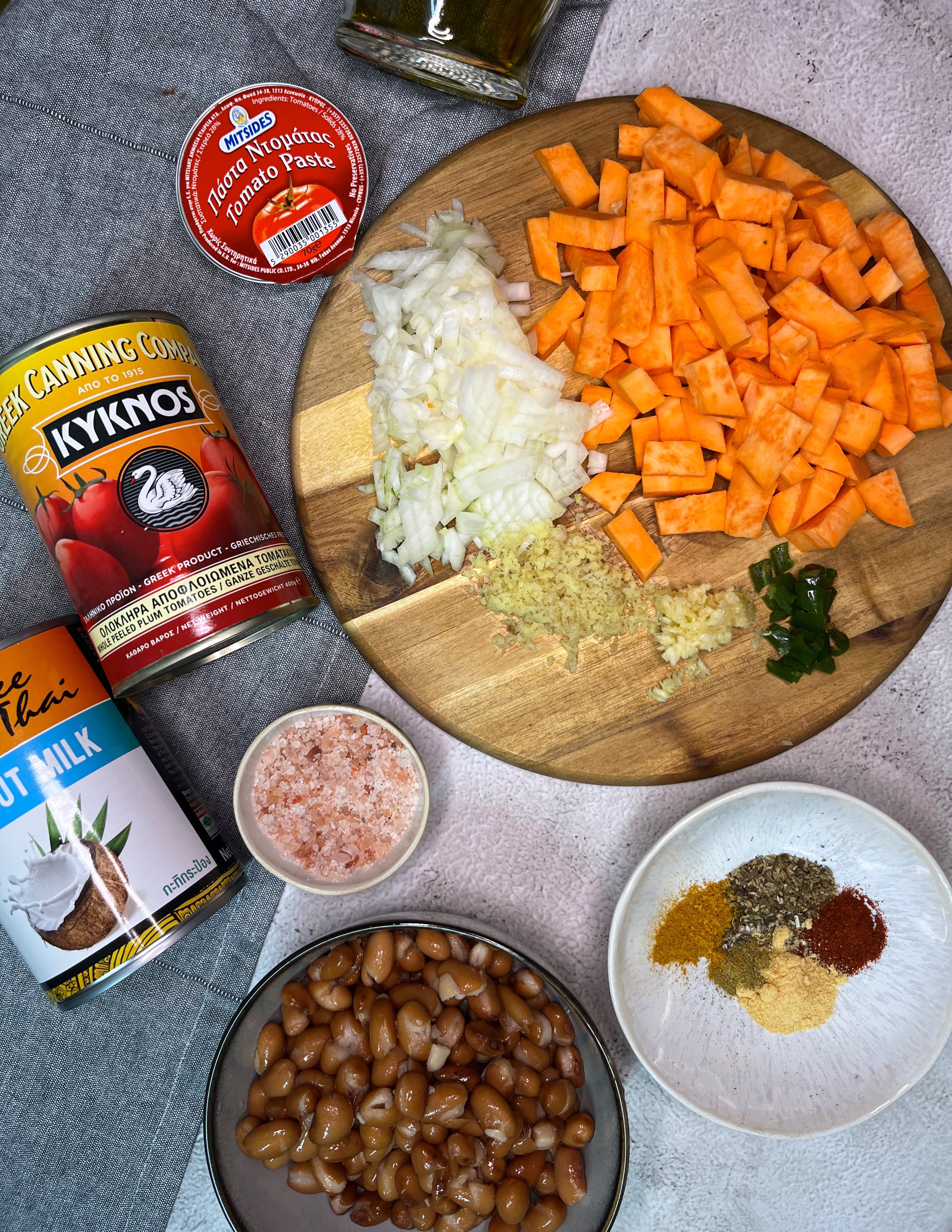 Steps:
1.In a pot on a medium heat add 3 tablespoons of the olive oil, followed by the chopped onion and a pinch of salt.
2.Saute for 5 minutes or until they get a nice golden colour.
3.Add the minced garlic and ginger, green chili and spices and sauté for a minute.
4.Continue with the harissa and tomato paste, along with the remaining olive oil.
5.Cook for 2 minutes before adding the sweet potato and veggie cube.
6.Saute for few minutes, then add the plum tomatoes and break them with a wooden spoon.
7.Stir through to deglaze the pot.
8.Add the coconut milk, followed by the borlotti beans.
9.Give it a stir and when it comes to boil, lower the heat and cover, leaving the spoon inside the pot to leave to steam out.
10.Cook on a low heat for approximately 30 minutes, stirring every now and then.
11.After 30 minutes, the sweet potatoes must have cooked.
12.Add the green leaves with a squeeze of lemon and check/adjust the seasoning if needed.
13.Serve with some kind of grain, I used wild rice this time, but basmati rice, quinoa or naan will be perfect too, plant-based yogurt and mango chutney!
Enjoy!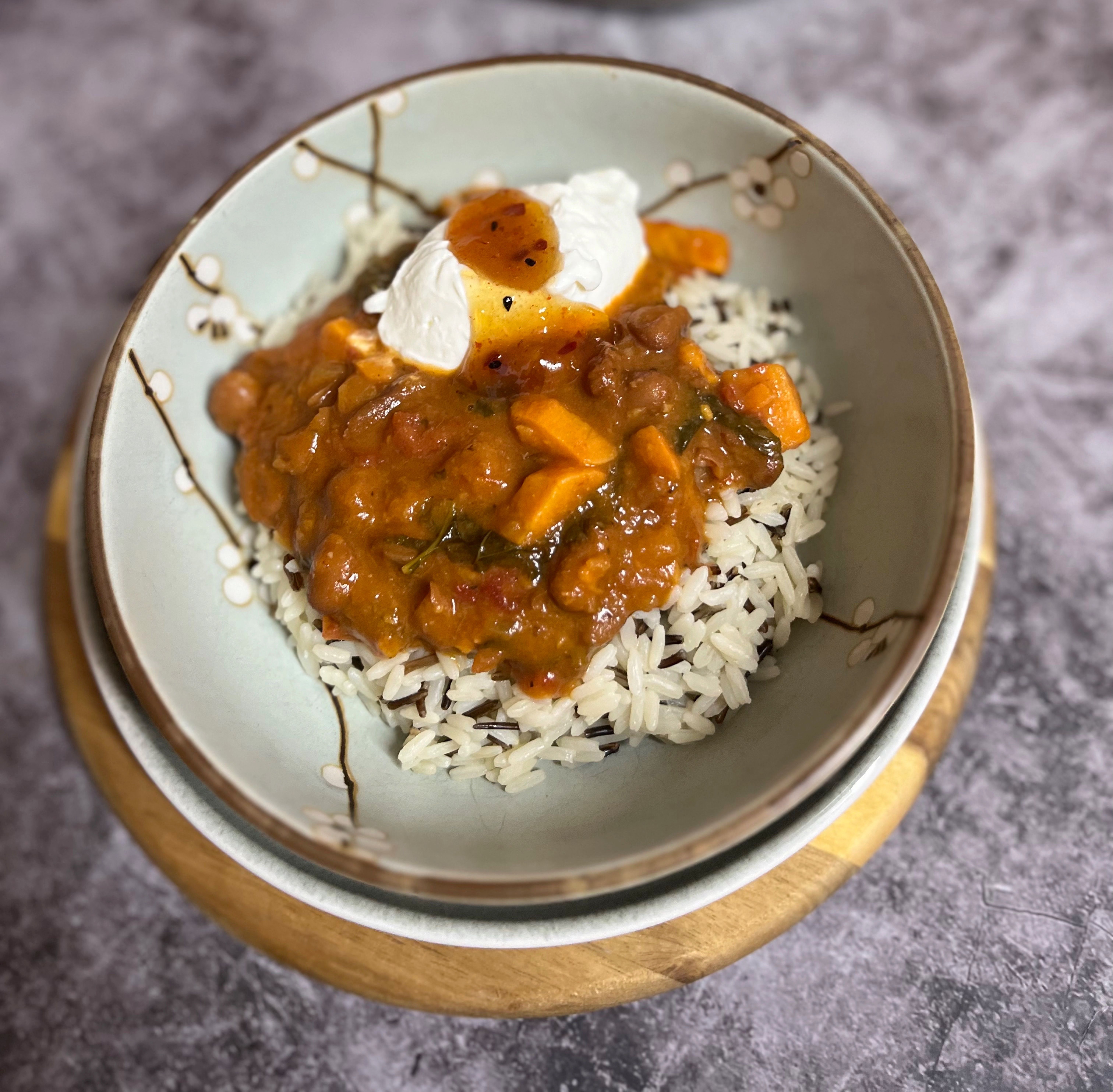 Notes:
*If you freeze your ginger, it makes it easier to mince it.
*I used a few spicy ingredients (harissa paste, green chili, cayenne pepper) and I'd say that this curry is on the medium spice side. If you prefer yours mild, then maybe skip the cayenne pepper, and/or remove the seeds from the green chili or you can remove it altogether. Also, you could use the green chili as a whole (to flavour a bit your curry) and then remove it.
*If you don't have/like kale, you can substitute it with other greens, such as spinach or collard greens.
*If you don't have/like borlotti beans, you can substitute them with pinto or cannellini beans.
*This meal tastes even better after a couple days in the fridge, so it makes a perfect candidate for meal prepping and it's also freezer friendly.
Did you try this recipe?
Let us know how it went, comment below and share a picture on Instagram or Twitter with the hashtag #natliciousfood
*Disclosure
Feel free to support me on Patreon!
Some of the above links are affiliate links, meaning at no additional cost to you, I may earn commission when you click through and make a purchase.