Chocolate raspberry mousse
Chocolate raspberry mousse
A delicious and super easy mousse that can be a great treat for Valentine's Day or any other day!
Vegan, nut free, gluten free, refined sugar free | Serves 2 | DESSERT
Ingredients:
200g silken tofu (I used clearspring)
60ml maple syrup
1 teaspoon coconut oil
1 teaspoon brandy (optional)
Pinch of salt
80g 70% dark chocolate (I used Lindt)
50g fresh raspberries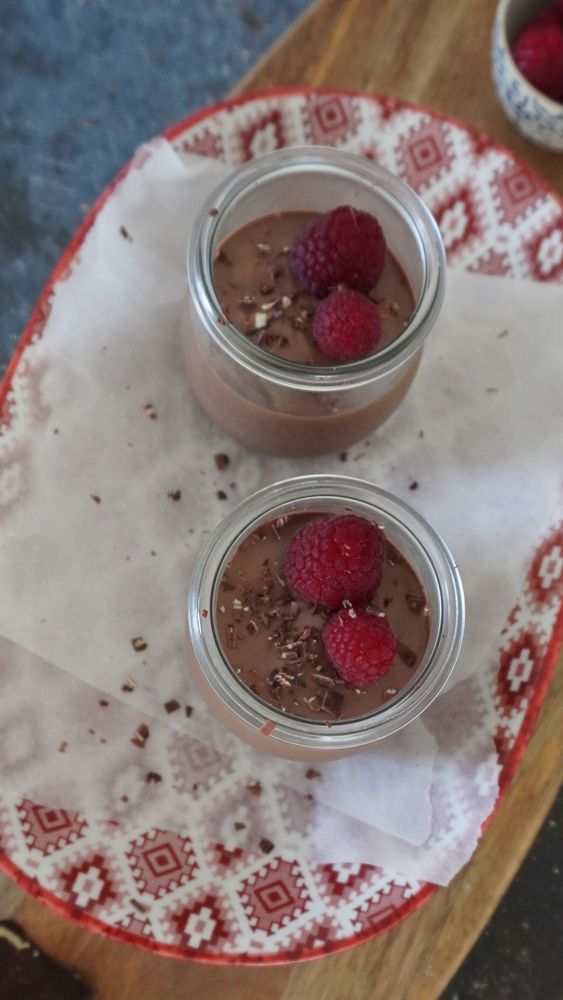 Steps:
1.Add the silken tofu in a food processor, along with the maple syrup, coconut oil, brandy, and salt.
2.Blend until everything is combined well.
3.Crumble the chocolate into a bowl and place it over a pot with boiling water (the bowl shouldn't be touching the hot water!), creating a bain-marie. Wait for the chocolate to melt and remove from the heat.
4.Add the melted chocolate into the food processor and blend to combine.
5.Cut the raspberries into small pieces and add them into the chocolate mixture.
6.Use a spoon to combine and put into jars.
7.Refridgerate for a couple of hours or overnight.
8.Serve with fresh raspberries and chocolate shavings!
Enjoy and Happy Valentine's Day in case you are celebrating!
Did you try this recipe?
Let us know how it went, comment below and share a picture on Instagram or Twitter with the hashtag #natliciousfood
*Disclosure
Some of the above links are affiliate links, meaning at no additional cost to you, I may earn commission when you click through and make a purchase.