Chilli con vegan carne
Can't beat a good chilli. This super simple 30-minute vegan chilli is going to blow you mind! It's packed with flavour and is suitable for batch cooking as it freezes well.
Vegan, nut free | Serves 4 | MAIN
Ingredients:
2 tablespoons of olive oil
1 onion, chopped
2 cloves of garlic, crushed or sliced
1/2 teaspoon of each cumin, garlic granules, chilli flakes, chilli powder, ground coriander
1 teaspoon of each smoked paprika, dried parsley
2 bay leaves
1 tablespoon of tomato paste
2 tablespoons of soy sauce
1 vegetable bouillon cube
1 carrot, grated
220g vegan mince (I used Vivera mince)
70g tomato passata
2x240g adzuki beans (drained weight), drained and washed
240g sweet corn (can or frozen)
Salt and pepper
Handful of fresh coriander, chopped
Steps:
1.In a large pot, on a medium heat, sauté the onions and garlic with the olive oil until translucent.
2.Add all the dried herbs and sauté for a couple of minutes, to release their aromatics. Deglaze the pot with splashes of water.
3.Add the tomato paste, soy sauce and veggie stock and sauté for few minutes. This will create a thick paste.
4.Add the mince and grated carrot and sauté for a couples of minutes.
5.Add the tomato passata and 250ml boiling water.
6.Add the beans and sweet corn and stir to combine everything well. Bring to boil, cover and lower the heat.
7.Simmer for 15 minutes, stirring occasionally.
8.Check the seasoning and adjust to your preference.
9.Add the fresh coriander and serve with basmati rice, avocado and coconut yogurt.
Happy cooking everyone!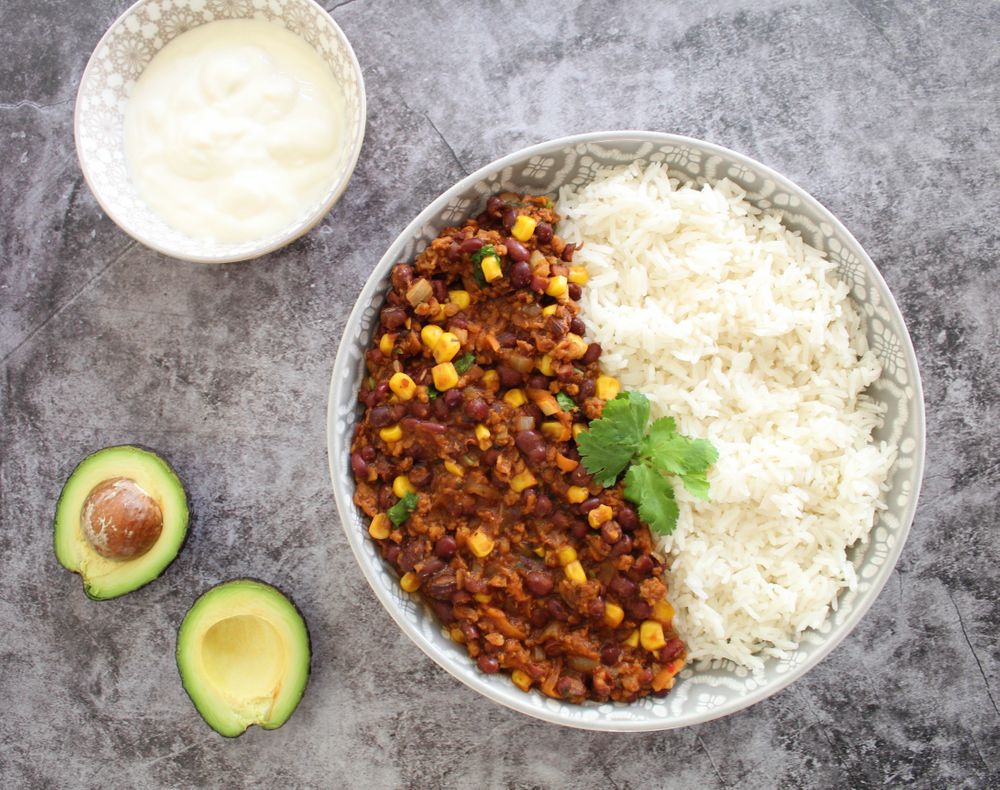 Did you try this recipe?
Let us know how it went, comment below and share a picture on Instagram or Twitter with the hashtag #natliciousfood
*Disclosure
Feel free to support me on Patreon!
Some of the above links are affiliate links, meaning at no additional cost to you, I may earn commission when you click through and make a purchase.