Cauliflower salad
This salad is quite easy to make, you only need a tray and some time. The tahini dressing complements the vegetables well so make sure to try it out!
Vegan, gluten free, soy free | Serves 2 | SALAD
Ingredients:
250g sweet potatoes, peeled and cut into small size cubes
350g cauliflower, cut into florets
1 x 240g red kidney beans (drained weight), drained and washed
3 tablespoons of olive oil
1/2 teaspoon of each paprika and chili flakes
1/4 teaspoon of each cumin seeds and cumin powder
1/2 teaspoon of Dhow Nature Foods turmeric
1 tablespoon of oregano
Pine nuts to serve
Salad of choice (I used a handful of mixed leaf salad and wild rocket)
Dressing:
2 tablespoons of olive oil -1 tablespoons of raw tahini
Juice of half lemon
Pinch of salt, pepper, garlic granules and oregano
Steps:
1.For the dressing mix all the ingredients in a jar and set aside (you can double or triple the dose and keep it in the fridge for up to a week).
2.Preheat your oven to 180°C and on a baking tray line a parchment paper.
3.In a bowl add the sweet potatoes, 1 tablespoon of olive oil, paprika, garlic, chilli flakes, oregano, salt and pepper and toss well. Add on the baking tray and bake for 20 min.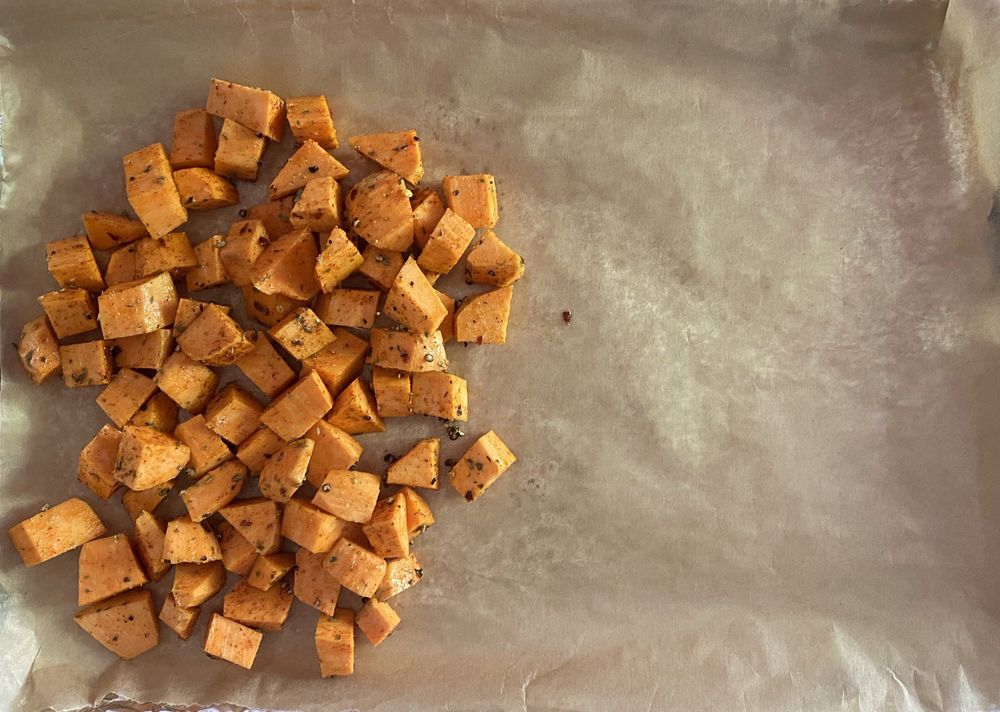 3.In the same bowl add the cauliflower florets, with 1 tablespoon of olive oil, turmeric, cumin seeds, oregano, garlic, salt and pepper and toss well. Add them next to the potatoes and bake for additional 20 minutes.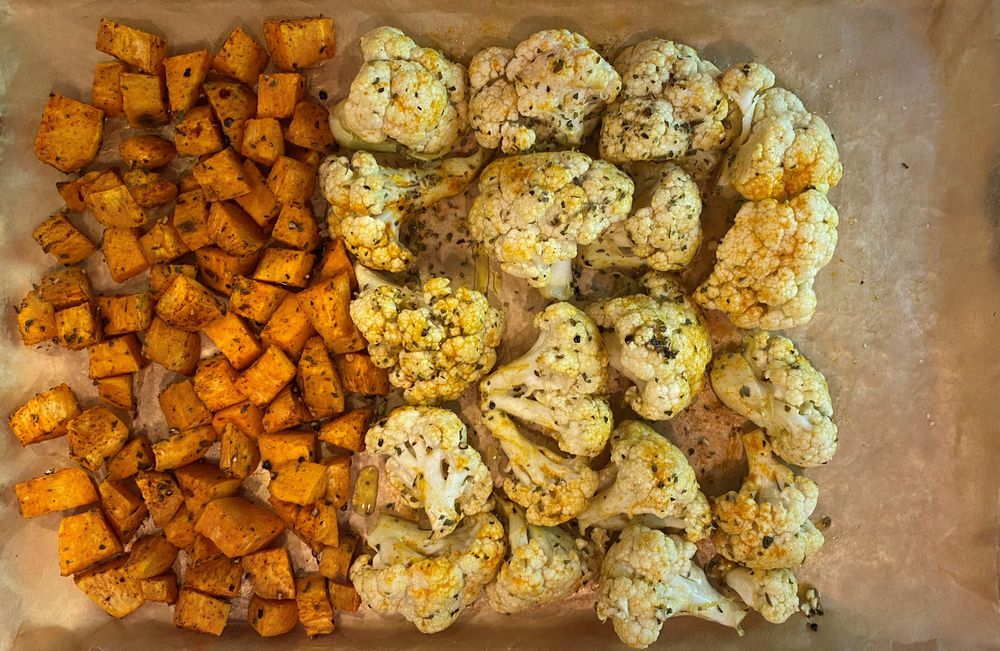 4.Use same bowl to also combine the beans, with the remaining oil, paprika, garlic, oregano, cumin powder, chilli flakes, salt and pepper and toss well. Add next to the cauliflower and bake for additional 10 minutes.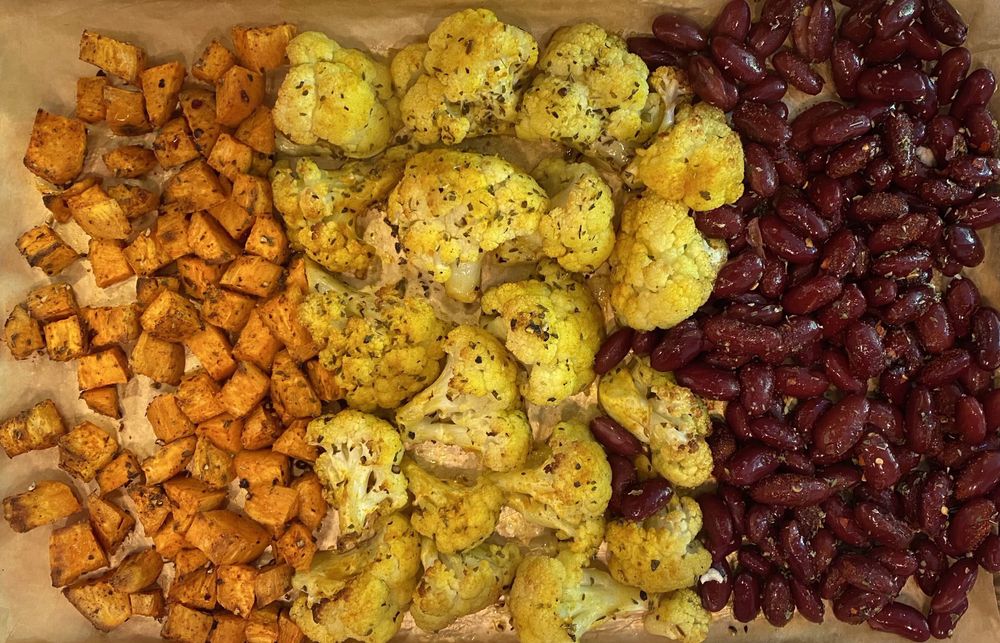 5.The sweet potatoes need 50 minutes in total, the cauliflower 30 and beans 10 minutes in the oven.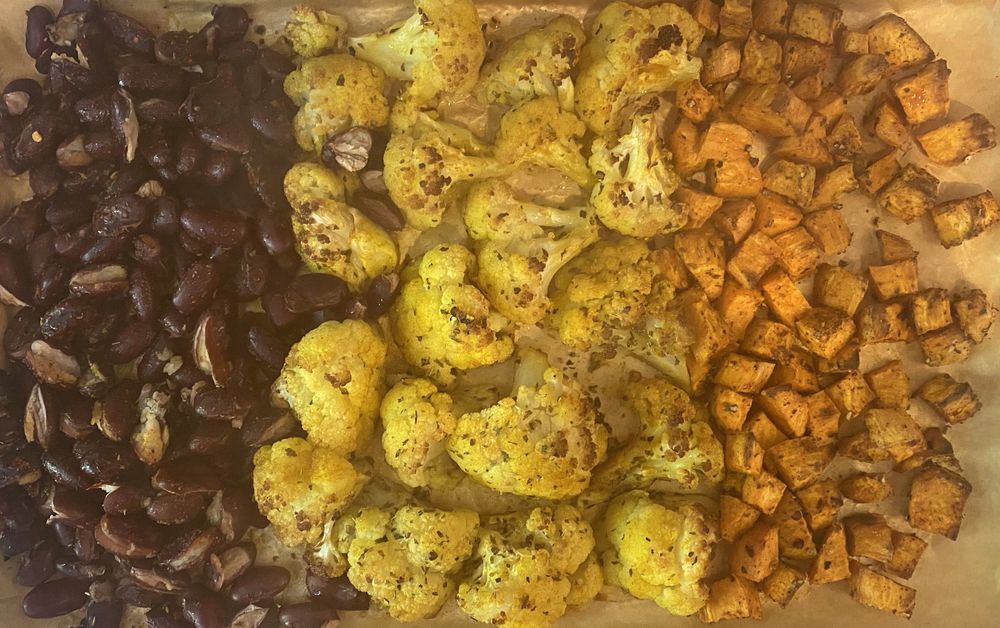 6.Once cooked let them aside for 10 minutes to cool down before serving.
7.Serve on a bed of salad, add all the vegetables and beans, then add the pine nut and dressing.
Happy cooking everyone!
Did you try this recipe?
Let us know how it went, comment below and share a picture on Instagram or Twitter with the hashtag #natliciousfood
*Disclosure
Some of the above links are affiliate links, meaning at no additional cost to you, I may earn commission when you click through and make a purchase.