Cauliflower in tomato sauce
Cauliflower in tomato sauce
This cauliflower recipe is really easy to make, yet so delicious, it just melts in your mouth!
Vegan, nut free, soy free, gluten free | Serves 2 | MAIN
Ingredients:
1/2 cauliflower head
4 tablespoons of olive oil
Salt and pepper
1 onion, chopped
2 cloves of garlic, crushed
1/2 teaspoon of each oregano, garlic granules and chili flakes
1 tablespoon of tomato paste
1 veggie cube
2 bay leaves
1 spring onion, chopped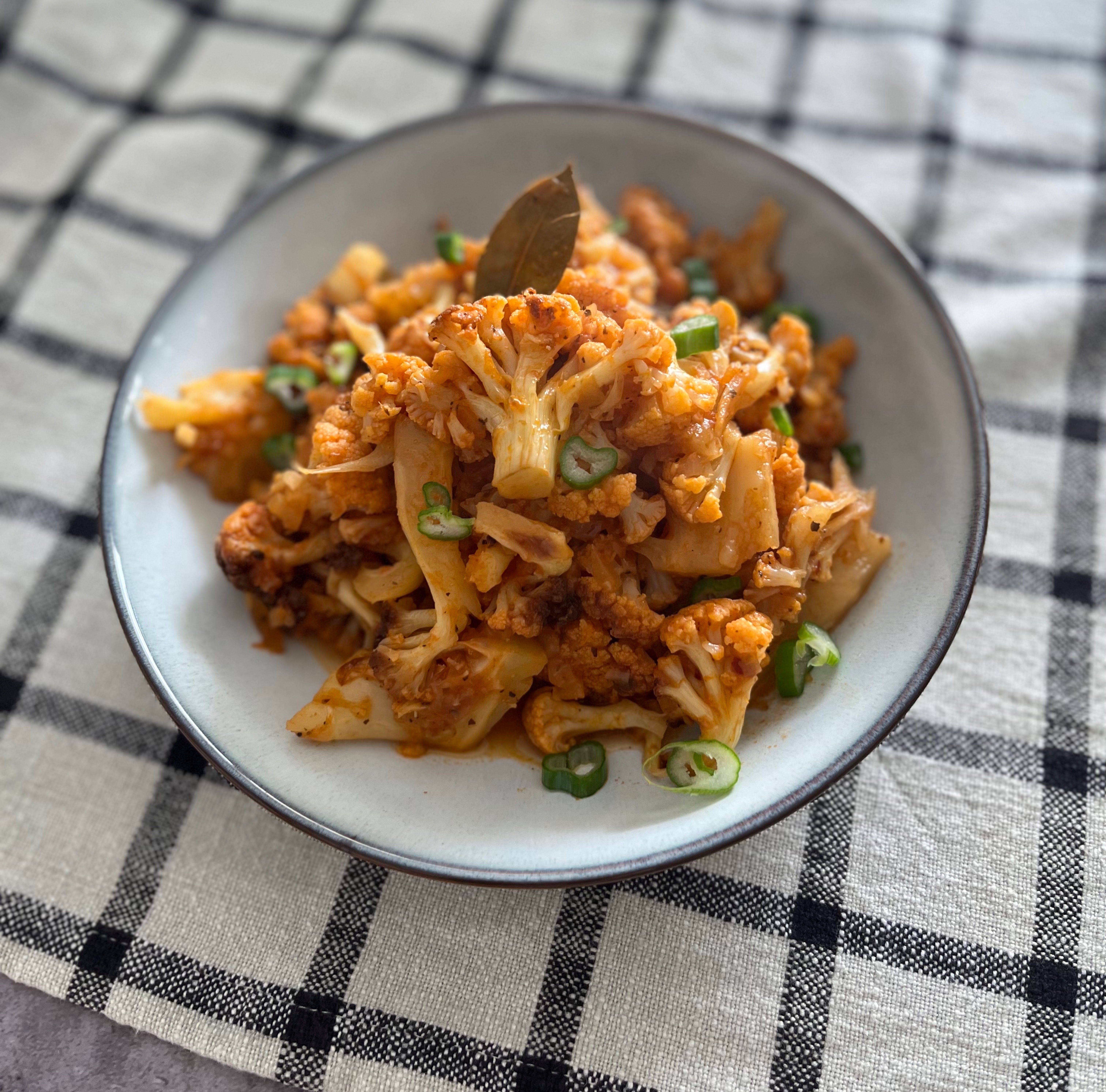 Steps:
1.Cut the cauliflower into florets and put into a baking tray lined with parchment paper.
2.Drizzle half of the olive oil on the cauliflower and season with salt.
3.Bake in a preheated oven at 180°C for 20 minutes.
4.While the cauliflower is baking, prepare the sauce.
5.In a medium size pot, on a medium heat add the remaining of the olive oil along with the onions and a pinch of salt.
6.Saute until translucent, then add the crushed garlic, along with the spices and cook for more few seconds.
7.Add the tomato paste and cook it for a minute before you add a splash of water.
8.Add the veggie cube, bay leaves, and 350ml of boiling water, lower the heat and simmer for few minutes.
9.Once the cauliflower is ready, add the florets carefully into the pot and cover.
10.Simmer the cauliflower into the sauce for 10-15 minutes, shaking occasionally the pot.
11.Serve with spring onion, bread or rice!
Enjoy!
Notes:
*If you want some recipe inspiration for the other half, here's some recipes for you.
Did you try this recipe?
Let us know how it went, comment below and share a picture on Instagram or Twitter with the hashtag #natliciousfood
*Disclosure
Feel free to support me on Patreon!
Some of the above links are affiliate links, meaning at no additional cost to you, I may earn commission when you click through and make a purchase.