Cannellini bean bowl
A yummy, filling and nutritious cannellini bowl that needs less than 30 minutes to prepare and it makes a great lunch or dinner!
Vegan, nut free, soy free | Serves 2 | MAIN
Ingredients:
140g quinoa
1 tablespoon olive oil
Salt and pepper
1 spring onion
Fresh coriander
Lemon zest
240g cannellini beans, (drained weight), drained and washed
1 tablespoon capers
Dressing:
2 tablespoons olive oil
1 tablespoon apple cider vinegar
1/2 teaspoon Dijon mustard
Salt and pepper
Pinch of dried oregano and garlic granules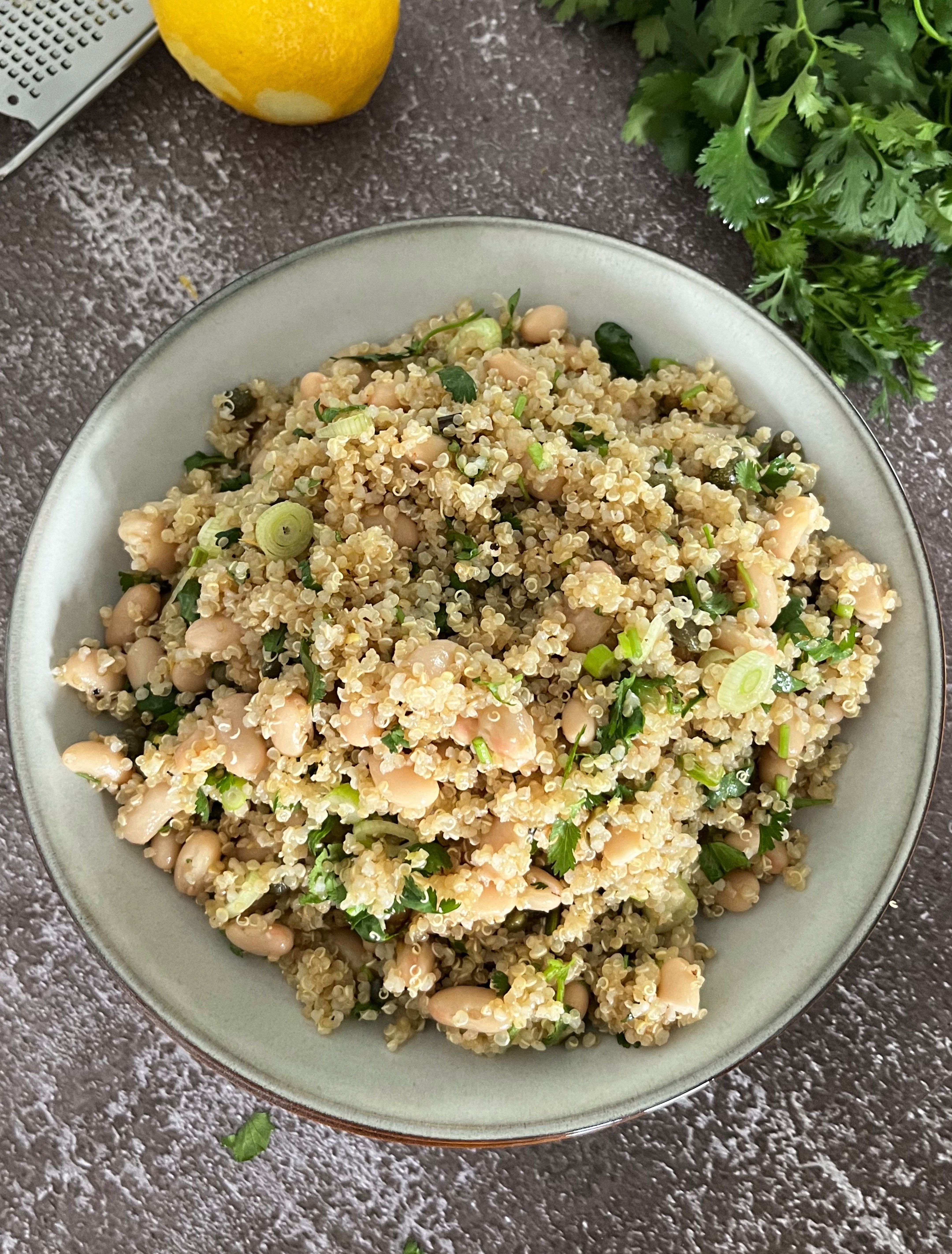 Steps:
1.In a small pot add the olive oil, quinoa and season with salt.
2.Saute for a minute on a high medium heat and then add 280ml of boiling water.
3.Cover, lower the heat and cook for 25-30 minutes.
4.While the quinoa is cooking prep the veggies and dressing.
5.Cut the onion and coriander and set aside.
6.Add all the dressing ingredients in a jars or bowl and mix well.
7.Once the quinoa is cooked, let it cool for few minutes before you assemble the salad.
8.Add everything in a mixing bowl, combine well, and adjust the seasoning to your preference.
Happy cooking everyone!
Did you try this recipe?
Let us know how it went, comment below and share a picture on Instagram or Twitter with the hashtag #natliciousfood
*Disclosure
Some of the above links are affiliate links, meaning at no additional cost to you, I may earn commission when you click through and make a purchase.