Butternut squash and mushroom pasta
Butternut squash and mushroom pasta
Here's a quick, easy and yummy pasta recipe, that takes less than 30 minutes to prepare and it makes a perfect #midweek meal!
Vegan, nut free, soy free, gluten free | Serves 2 | MAIN
*Use gluten free pasta to make it gluten free.
Ingredients:
250g butternut squash
1/3 of a teaspoon of each cinnamon, garlic granules and chili flakes
1/2 teaspoon of sage
Salt and pepper
3 tablespoons of olive oil
200g pasta of choice
160g mushrooms, cut in bit size pieces
1 clove of garlic, slightly pressed
2 spring onions, chopped
1 tablespoon of vegan butter, I'm using naturli
20g of vegan parmesan, I'm using green vie parveggio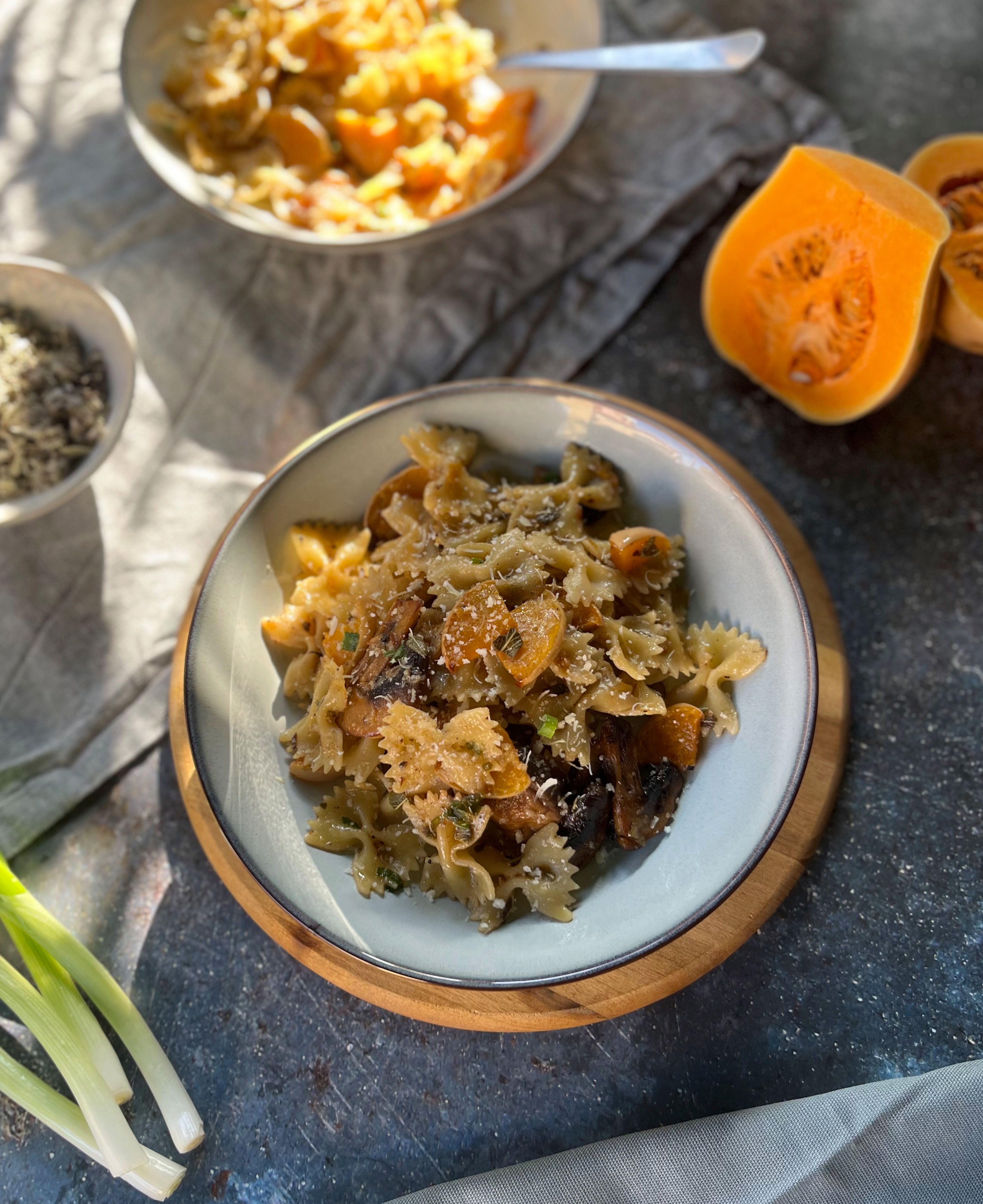 Steps:
1.Cut the pumpkin into 0.5cm bite size slices and place in a baking tray.
2.Season with salt, pepper and all the remaining spices, half of the sage and drizzle 1 tablespoon of olive oil.
3.Bake in a preheated oven at 180°C for 20 minutes.
4.In the meantime, boil the pasta in salted water, according to the package instructions.
5.In a pan, on a medium heat, sauté the mushrooms with the remaining olive oil, for a minute.
6.Then add the garlic clove, the white parts of the spring onions and butter.
7.Saute on a medium-low heat for few minutes until you get a nice caramelisation.
8.Keep 200ml of the pasta water aside and add splashes into the mushrooms to deglaze the pan as needed.
9.Once the butternut squash is ready add it to the pan, along with the cooked pasta, the remaining sage and parmesan.
10.Mix to combine and adjust the seasoning if needed.
Happy cooking everyone!
Did you try this recipe?
Let us know how it went, comment below and share a picture on Instagram or Twitter with the hashtag #natliciousfood
*Disclosure
Some of the above links are affiliate links, meaning at no additional cost to you, I may earn commission when you click through and make a purchase.