Bulgur & bean salad
Quick and easy this Bulgur and Bean salad, is full of protein and the taste won't disappoint!
Vegan, soy free | Serves 1 | SALAD
Ingredients:
100g bulgur wheat
Salt and pepper
1 tablespoon of olive oil
Pinch of each oregano, paprika & garlic granules
100g cannellini beans
5 kalamata olives, pitted
1 spring onion, sliced
2 sun-dried tomatoes (from a jar), sliced
20g walnuts
1/2 Lemon zest & juice
Fresh coriander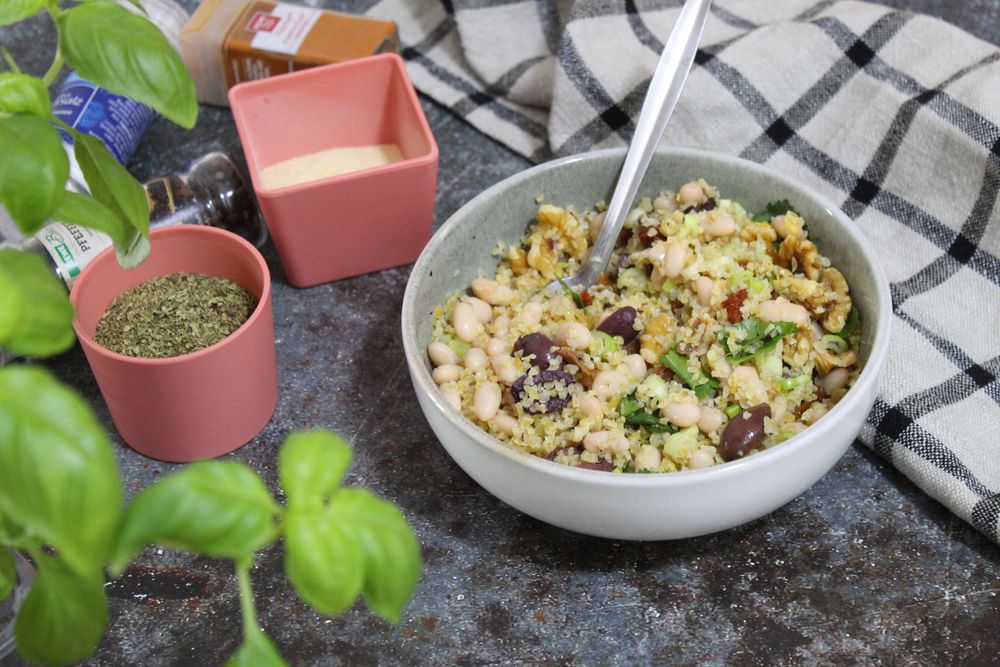 Steps:
1.In a bowl add the bulgur with a tablespoon of olive oil, along with the spices and add of 150ml boiling water. Stir and cover with a plate. Make sure that the bowl is fully covered, as the bulgur will get cooked with the steam.
2.After 10 minutes, uncover. The water must be completely absorbed, and the bulgur must be cooked. Use a fork to fluff it up.
3.Add all the remaining ingredients and adjust the seasoning to your preference.
Happy cooking everyone!

Did you try this recipe?
Let us know how it went, comment below and share a picture on Instagram or Twitter with the hashtag #natliciousfood
*Disclosure
Some of the above links are affiliate links, meaning at no additional cost to you, I may earn commission when you click through and make a purchase.