Beetroot and black bean patties
Beetroot and black bean patties
Delicious and full of goodness, these patties are perfect in a wrap, in your salads or as a side to any meal.
Vegan, nut free, soy free, gluten free | 10 patties | SIDE
Ingredients:
1 teaspoon chia seeds
200g beetroot, cooked
1 onion, chopped
1 tablespoon olive oil
240g black beans (from a can), drained and rinsed
200g quinoa, cooked
130g oats
Salt & pepper
1/2 teaspoon each sweet paprika, dried parsley and oregano
1/4 teaspoon each cayenne pepper, garlic granules and ground cumin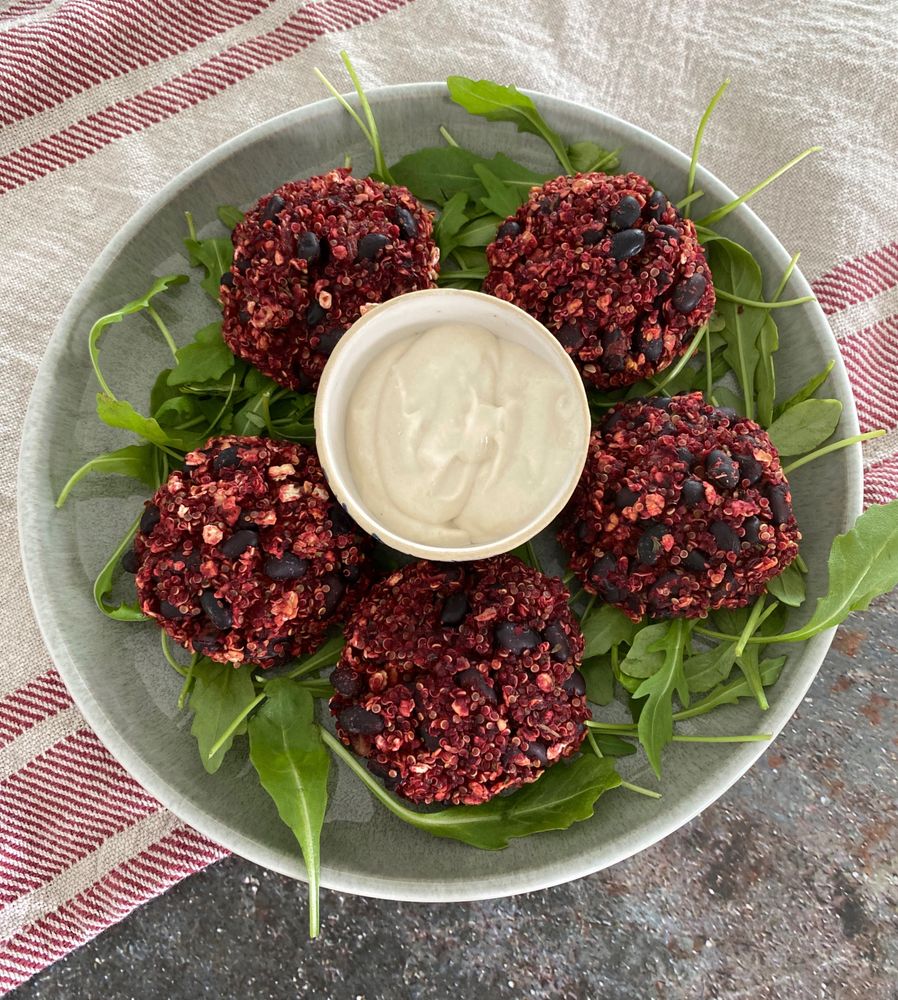 Steps:
1.Add the chia seeds in a small bowl with 3 teaspoons of water, mix and let aside for 10 minutes.
2.In the meantime, add the cooked beetroot in a food processor and blend until it becomes a paste.
3.In a pan on a medium heat, sauté the chopped onions with the olive oil.
4.Add all the ingredients in a mixing bowl and combine.
5.Use a fork to mash the beans a bit and check the seasoning before start shaping them into small patties.
6.Placse them into a tray with lined parchment paper and put them in the freezer for 10 minutes to set.
7.Preheat your oven at 180 degree Celsius while waiting.
8.Bake the patties for 20-25 minutes and serve them with tahini sauce and some wild arugula.
Notes:
*You can omit the cayenne pepper or add more, depending on your preference.
*Once you shape them, you can freeze them for up to 2 months.
*You can cook them in the air-fryer at 180 degrees Celsius for 8 minutes.
Happy cooking everyone!
Did you try this recipe?
Let us know how it went, comment below and share a picture on Instagram or Twitter with the hashtag #natliciousfood
*Disclosure
Some of the above links are affiliate links, meaning at no additional cost to you, I may earn commission when you click through and make a purchase.