Bakaliaros skordalia
On the 25 of March is the annual celebration of Greek Independence Day, but it also has a religious significance for Greek Orthodox, as is said to be the day when Virgin Mary got the news of bearing a child. For this celebration, this is the only day during lent, that is allowed to consume fish! A traditional recipe for this day is bakaliaros skordalia, fried cod fish, served with mashed garlicky potatoes. For my vegan version, I'm using banana blossom to replace the fish, plus I'm adding fava protein powder to make my meal more nutrient dense, and let me tell you that it turned out just amazing!
Vegan, nut free, soy free, gluten free | Serves 2 | MAIN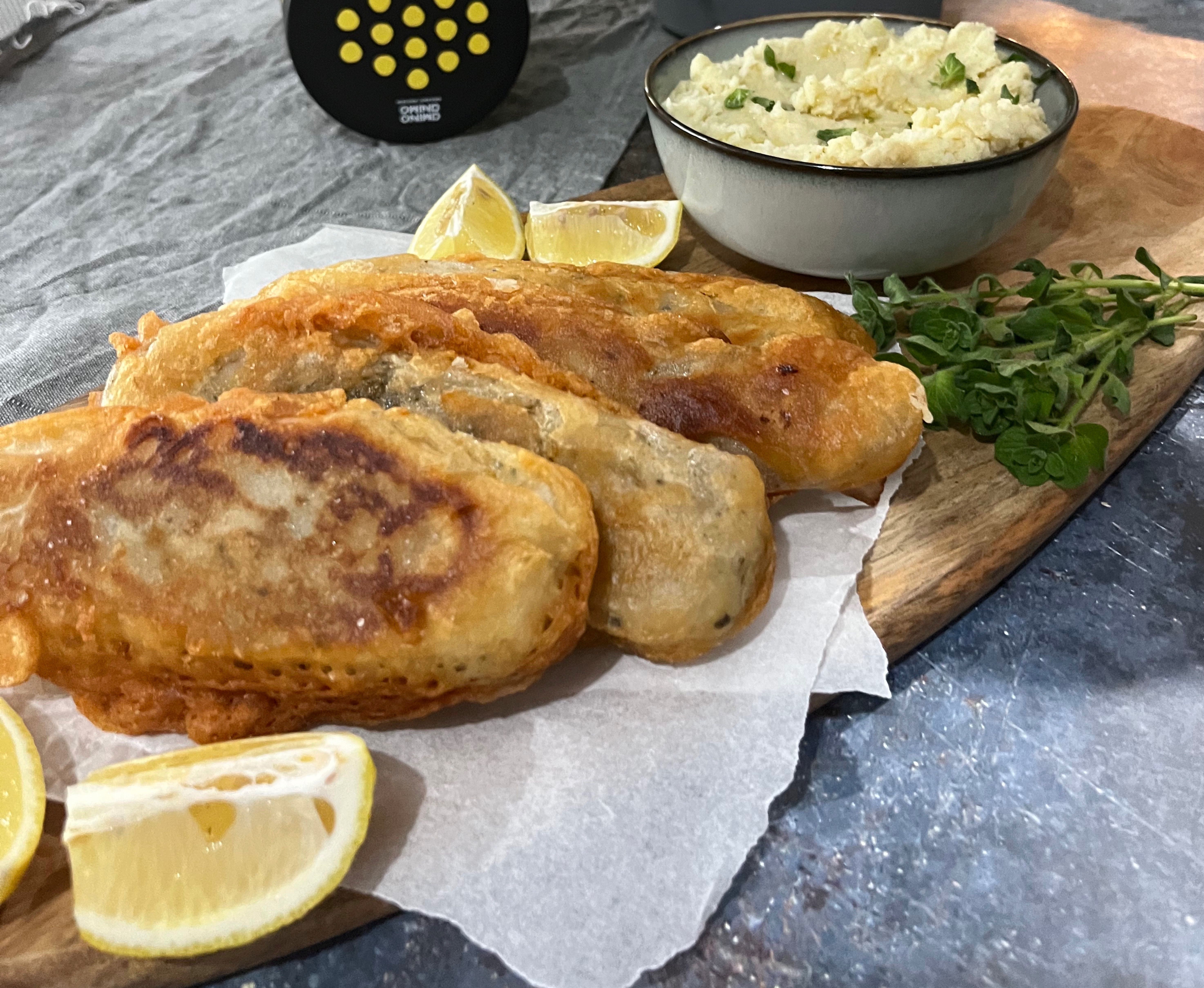 Ingredients:
Vegan fish:
260g banana blossom, from a can, drained and rinsed
4 rice paper
500ml sunflower oil
Marinade:
60ml apple cider vinegar
60ml olive oil
1 tablespoon capers
1 teaspoon of each nutritional yeast and dried dill
1/2 teaspoon of each garlic granules, oregano, Dijon mustard
1/2 nori sheet
Salt and pepper
Skordalia (aka garlicky mash):
500g potatoes
2 cloves of garlic
80ml olive oil
Pinch of oregano
2 tablespoons of fava protein powder
Fish batter:
230g all-purpose flour
1 teaspoon baking powder
1/2 teaspoon garlic granules
Salt
330ml beer
2 tablespoons maple syrup
Serve with: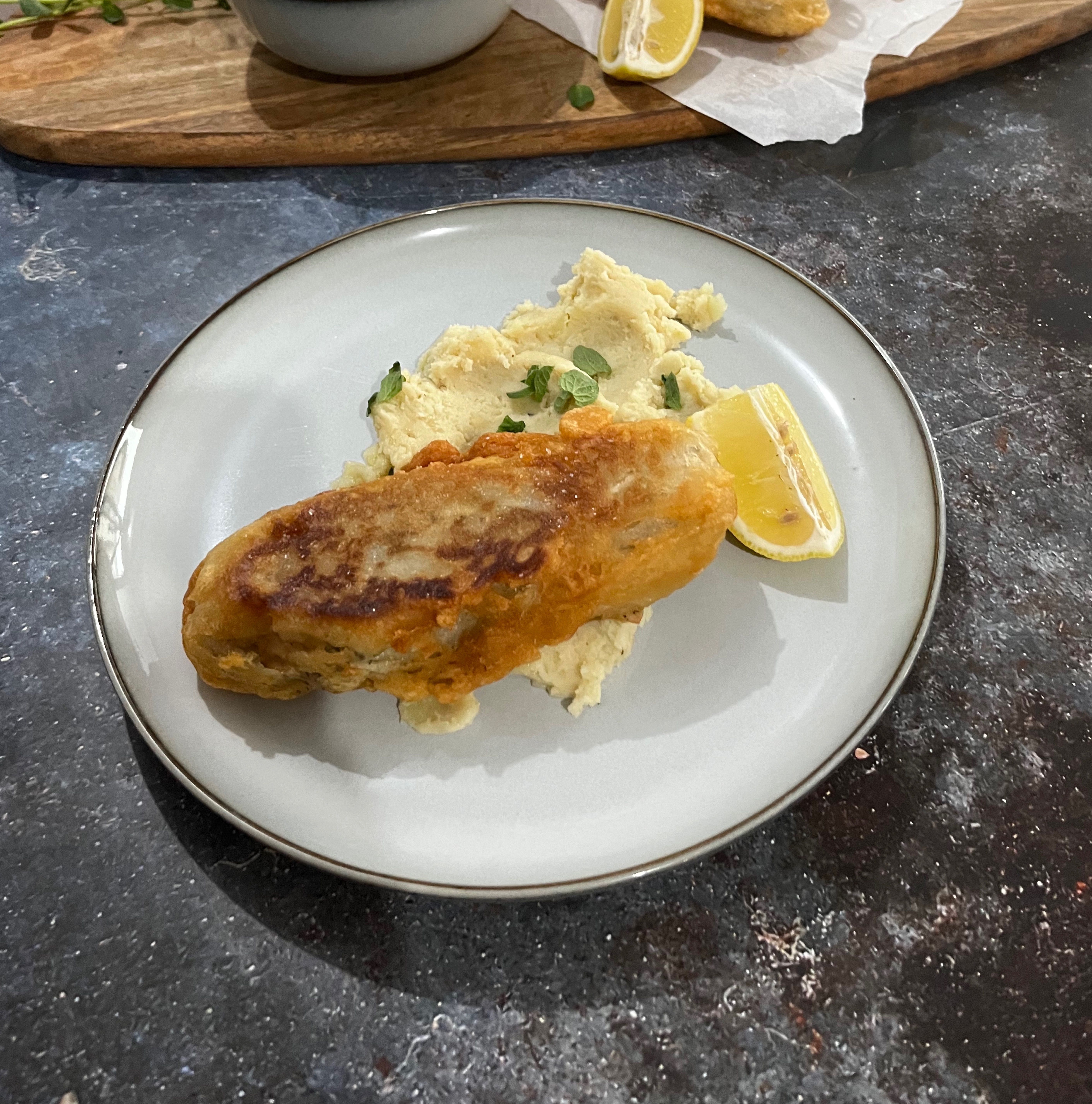 Steps:
1.Prepare the fish marinade by adding all the ingredients in a food processor. Blend until smooth.
2.Add the banana blossom in a bowl, followed by the marinade and mix to cover.
3.Set aside for few minutes to marinate.
4.In the meantime, peel the potatoes, cut them in cubes and add in a pot.
5.Cover with water and add a generous pinch of salt. Boil for 15-20 minutes, or until they are cooked (check with a fork).
6.While the potatoes are boiling, prepare the batter for the fish.
7.In a large, mixing bowl, add the flour, baking powder, garlic and salt and mix.
8.Continue with the beer and maple syrup and use a whisk to combine.
9.Once the potatoes are cooked, drain them, and set aside.
10.In a food processor, add the 80ml of olive oil, the garlic cloves and oregano and blend.
11.Add the potatoes in a bowl, along with the oil mixture, and fava protein and mash. Serve aside until serving time.
12.Back to the fish, dip a rice paper in a plate with water for few seconds, until softened (this will only take few seconds).
13.Then add some of the fish, and fold up the top, then each side inwards and roll like a burrito. Continue until you have used all the wrappers.
14.Heat the vegetable oil in a shallow pan or pot, and dip each fish into the batter and once the oil is hot, add them carefully.
15.I'm frying 2 pieces at a time (be careful not to overcrowd the pan). Fry for 3-4 minutes on each side or until golden.
16.Once cooked, place it on a plate with some kitchen paper to absorb any excess oil and sprinkle some salt.
17.Serve with lemon and fresh thyme.
Happy cooking everyone!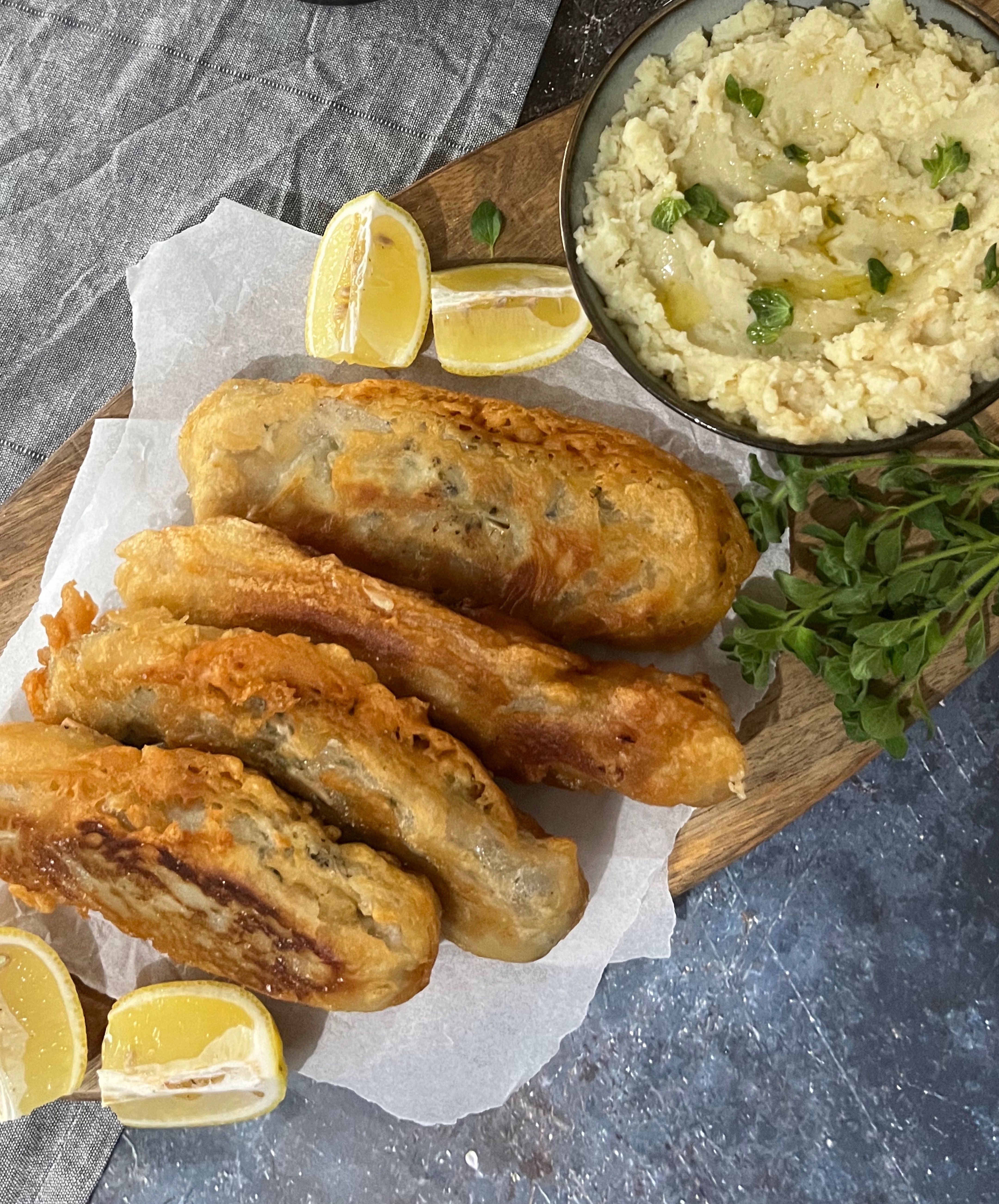 Notes:
*You can marinade the banana blossom up to a day in advance.
*Check if the oil is hot by adding a drop of the batter. If it's bubbling away is ready.
Did you try this recipe?
Let us know how it went, comment below and share a picture on Instagram or Twitter with the hashtag #natliciousfood
*Disclosure
Feel free to support me on Patreon!
Some of the above links are affiliate links, meaning at no additional cost to you, I may earn commission when you click through and make a purchase.