Aubergine, tofu and rice
Aubergine and tofu in sweet chilli sauce served with basmati rice and sesame seeds!
Vegan, nut free | Serves 2 | MAIN
Ingredients:
Aubergine & Tofu:
1 aubergine, cut in big cubes (eggplant)
100g firm tofu, cut in bite size cubes (I used Tofoo)
2 tablespoons of corn flour
200ml of vegetable oil (I used sunflower)
Dressing:
1 tablespoon of tomato paste
1 teaspoon of ginger paste
1 tablespoon of soy sauce
4 tablespoons of sweet chili sauce
4 tablespoons of water
1/2 teaspoon of each oregano, chili flakes and garlic granules
Pinch of salt and pepper
Rice:
1 tablespoon of olive oil
200g of basmati rice
To assemble:
1 tablespoon of vegetable oil (I used sunflower)
2 cloves of garlic, sliced thinly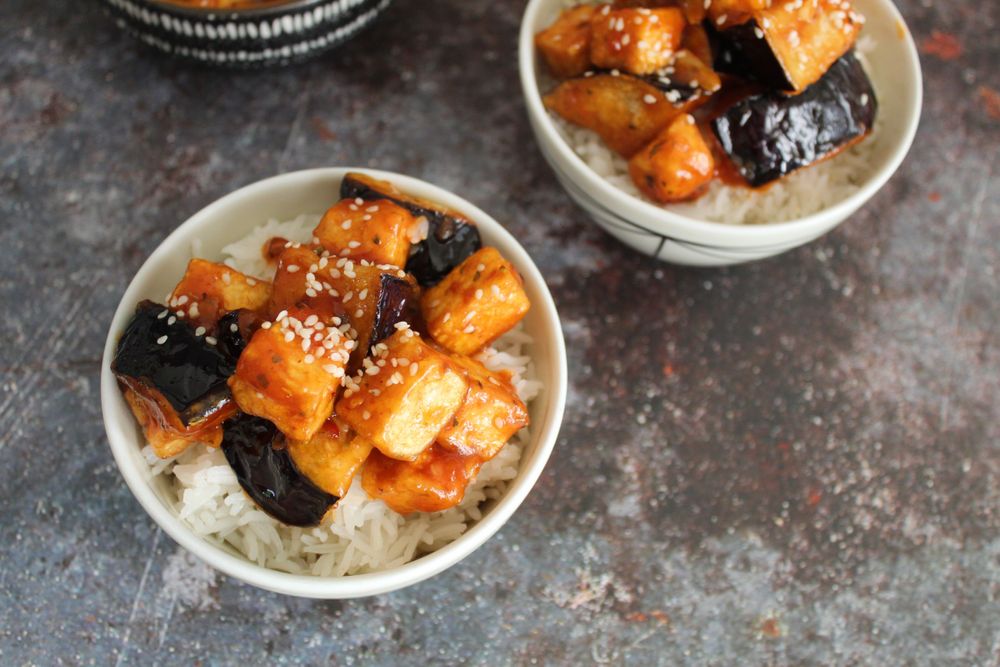 Steps:
1.Add the aubergine chunks in a bowl with a generous pinch of salt for 10-15 minutes. This will help to remove any bitterness.
2.Pat dry the tofu cubes with a clean kitchen towel and set aside (the tofu I'm using is already pressed, if yours is not, you might need to press it to get rid of the excess moister).
3.Thoroughly wash the aubergines and pat dry them with a clean kitchen towel.
4.In a bowl add the corn flour and the aubergines and coat them on all sides.
5.Heat the oil for frying and fry the aubergine cubes in batches for 2-3 minutes or until golden (remove any excess corn flour before you start frying).
6.Once golden, place on a plate with lined kitchen paper to absorb any excess oil. Continue until you have fried all the aubergines.
7.Use the remaining corn flour to coat the tofu pieces and fry them until gold.
8.In a jar or bowl, add all the ingredients for the dressing and whisk to combine.
9.In a small pot, on a medium heat, add the olive oil, rice, and a pinch of salt. Stir to coat the rice in the olive oil and add 480ml of boiling water, stir, bring to boil and lower the heat. Cover and cook for 10 minutes.
10.After 10 minutes, all the water must be evaporated, and the rice should have been cooked.
11.In a wide pan, add one tablespoon of vegetable oil, the garlic and sauté for a minute (keep an eye not to burn them!).
12.Add the fried aubergines and tofu and the dressing, sauté for a couple of minutes to coat everything with the dressing.
13.Serve with the rice and a sprinkle of sesame seeds.
Happy cooking everyone!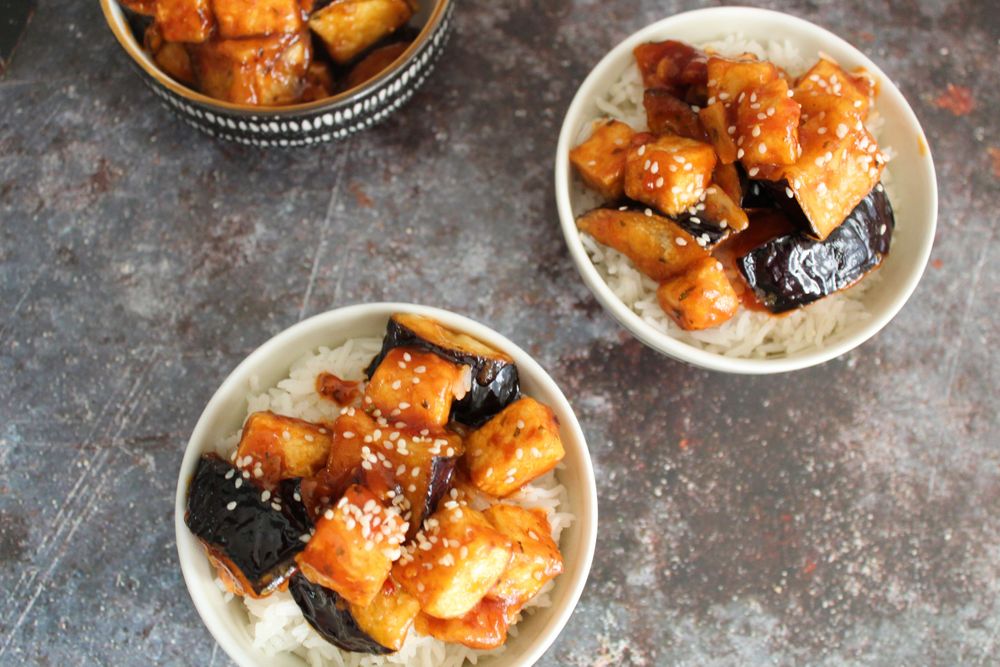 If your tofu is not pressed, here's a technique to press it:
Did you try this recipe?
Let us know how it went, comment below and share a picture on Instagram or Twitter with the hashtag #natliciousfood
*Disclosure
Feel free to support me on Patreon!
Some of the above links are affiliate links, meaning at no additional cost to you, I may earn commission when you click through and make a purchase.